InVECOF Project in a nutshell!
10/11/2023
The two main objectives of the project are:
To develop an oxide ceramic reinforcing fibre and establish a production chain. The production line (TRL7) will be built at RATH in Mönchengladbach, Germany.
To develop and validate a next-generation oxide ceramic fiber with improved thermo-mechanical properties (TRL5). Research on the new fiber recipes is done by 𝐅𝐫𝐚𝐮𝐧𝐡𝐨𝐟𝐞𝐫 𝐇𝐓𝐋/𝐈𝐒𝐂, 𝐈𝐑𝐂𝐄𝐑 (𝐂𝐍𝐑𝐒) and 𝐔𝐧𝐢𝐯𝐞𝐫𝐢𝐬𝐭𝐲 𝐨𝐟 𝐋𝐢𝐦𝐨𝐠𝐞𝐬. In addition, a TRL5 fiber production plant will be established at Fraunhofer in Bayreuth, Germany.
The produced fibers will be tested by the end-user partners (𝐏𝐲𝐫𝐨𝐦𝐞𝐫𝐚𝐥, 𝐏𝐨𝐫𝐜𝐡𝐞𝐫, 𝐒𝐚𝐟𝐫𝐚𝐧, 𝐑𝐚𝐮𝐬𝐜𝐡𝐞𝐫𝐭, 𝐍𝐋𝐑 & 𝐀𝐫𝐢𝐚𝐧𝐞) with aim to validate their applicability for the production of so-called oxide ceramic matrix composites (O-CMC).
O-CMCs are 𝐥𝐢𝐠𝐡𝐭-𝐰𝐞𝐢𝐠𝐡𝐭, possess a 𝐡𝐢𝐠𝐡𝐞𝐫 𝐜𝐡𝐞𝐦𝐢𝐜𝐚𝐥 𝐫𝐞𝐬𝐢𝐬𝐭𝐚𝐧𝐜𝐞 and can 𝐰𝐢𝐭𝐡𝐬𝐭𝐚𝐧𝐝 𝐡𝐢𝐠𝐡𝐞𝐫 𝐮𝐬𝐞-𝐭𝐞𝐦𝐩𝐞𝐫𝐚𝐭𝐮𝐫𝐞𝐬 𝐜𝐨𝐦𝐩𝐚𝐫𝐞𝐝 𝐭𝐨 𝐦𝐞𝐭𝐚𝐥𝐬. Therefore, they can be used in applications where metals have reached their limitations, such as:
✔ in 𝐚𝐞𝐫𝐨𝐬𝐩𝐚𝐜𝐞 𝐢𝐧𝐝𝐮𝐬𝐭𝐫𝐲 (e.g. aircraft engines – turbines & nozzles, thermal protection tiles, etc.);
✔ in 𝐝𝐞𝐟𝐞𝐧𝐬𝐞 𝐚𝐩𝐩𝐥𝐢𝐜𝐚𝐭𝐢𝐨𝐧𝐬 (high-strength armour and ballistic protection materials);
✔ as 𝐬𝐮𝐛𝐬𝐭𝐢𝐭𝐮𝐭𝐞𝐬 𝐟𝐨𝐫 𝐚𝐥𝐥𝐨𝐲𝐬 𝐰𝐢𝐭𝐡 𝐜𝐫𝐢𝐭𝐢𝐜𝐚𝐥 𝐦𝐞𝐭𝐚𝐥𝐬 (nickel and titanium), and more.
Oxide ceramic fibers and their composites are currently exclusively produced outside of Europe. However, they have a wide application which makes them a critical and strategic material in the EU. Up to 25% of the global production of these fibers is imported to EU.
Moreover, establishing an European production chain is essential not only for improving European resilience related to critical materials, but also for increasing their global supply and lowering the prices.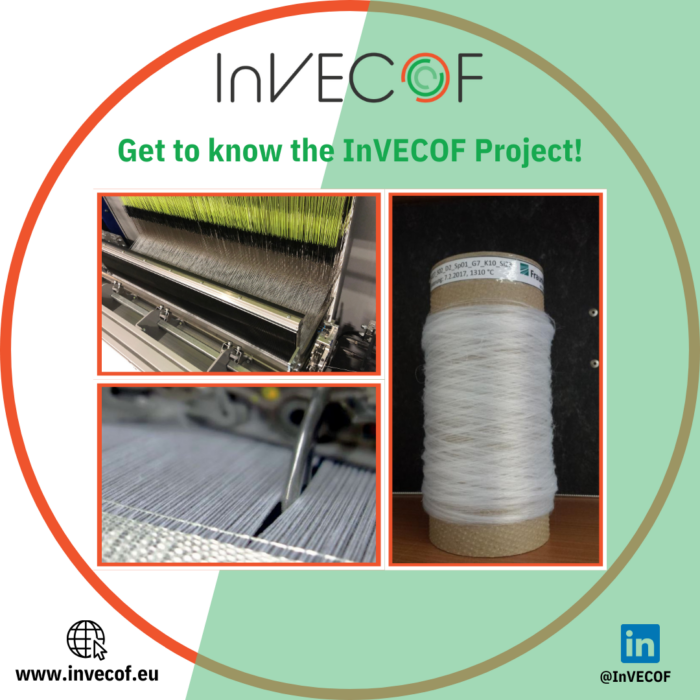 Follow InVECOF LinkedIn to stay updated with the latest news!
More about InVECOF in the official website!